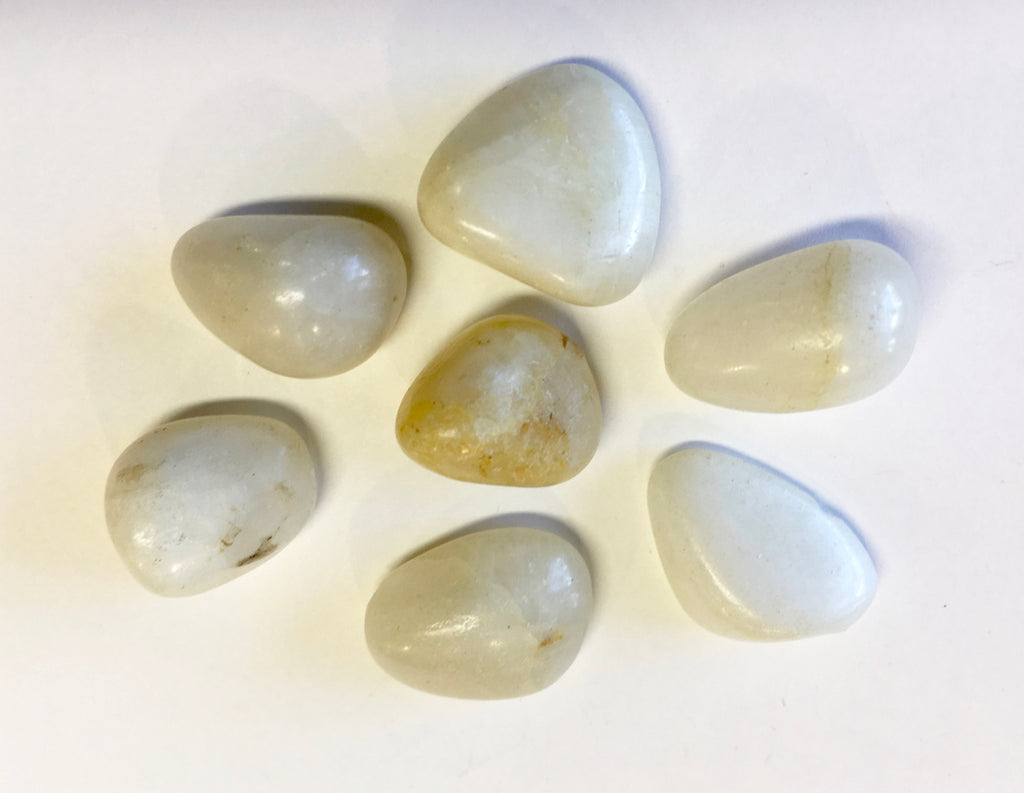 Crystal Medicine
Cryolite or Ice Stone Tumbled - 17.99
Rare tumbled Cryolite stones from Greenland.  Some have Siderite and Chalcopyrite inclusions.  Cryolite is also known as Ice Stone or Ice-Stone.
Average Size: 2 x 1 cm
17.99 Each
Cryolite: Cryolite is a quite amazing high vibration crystal that inspires a deep connection to the higher realms and to Spirit.  It energizes the brain and creates a powerful mind-heart link - A dynamic stone for lightbody awakening, ascension and enlightenment.  Cryolite connects with angels and with beings in the higher realms. This stone has a delightful heart based vibration yet it is quite intense and can instigate deep spiritual growth.  Cryolite has a strong vibration within all of the chakras, and this flow of light will move throughout the body, and at the base chakra may stimulate kundalini activation.
(spiritofisis.com) Cryolite is a sodium aluminium fluoride mineral and is found as a pegmatite in granite intruded gneiss. Cryolite, unlike Halite has no salty taste.  Cryolite has been used in industrial aluminium processing but is now too rare for this use.  Cryolite specimens are collectable and is known as ice-stone. This is due to the fact that Cryolite has a similar refractive index to water, causing colourless specimens to apparently disappear when immersed in water.  Cryolite stimulates the base and crown chakras providing a clear channel for the flow of energy.  Cryolite is known as the balancer of energy flow acting as a regulator for optimal physical health.  Cryolite acts to support those whose are engaged in public speaking acting to calm the nerves.  Cryolite heightens awareness of ones environment and our place and resonsibility within it.  Cryolite can be useful in treating eye infections.  Cryolite has been used to reduce chills.