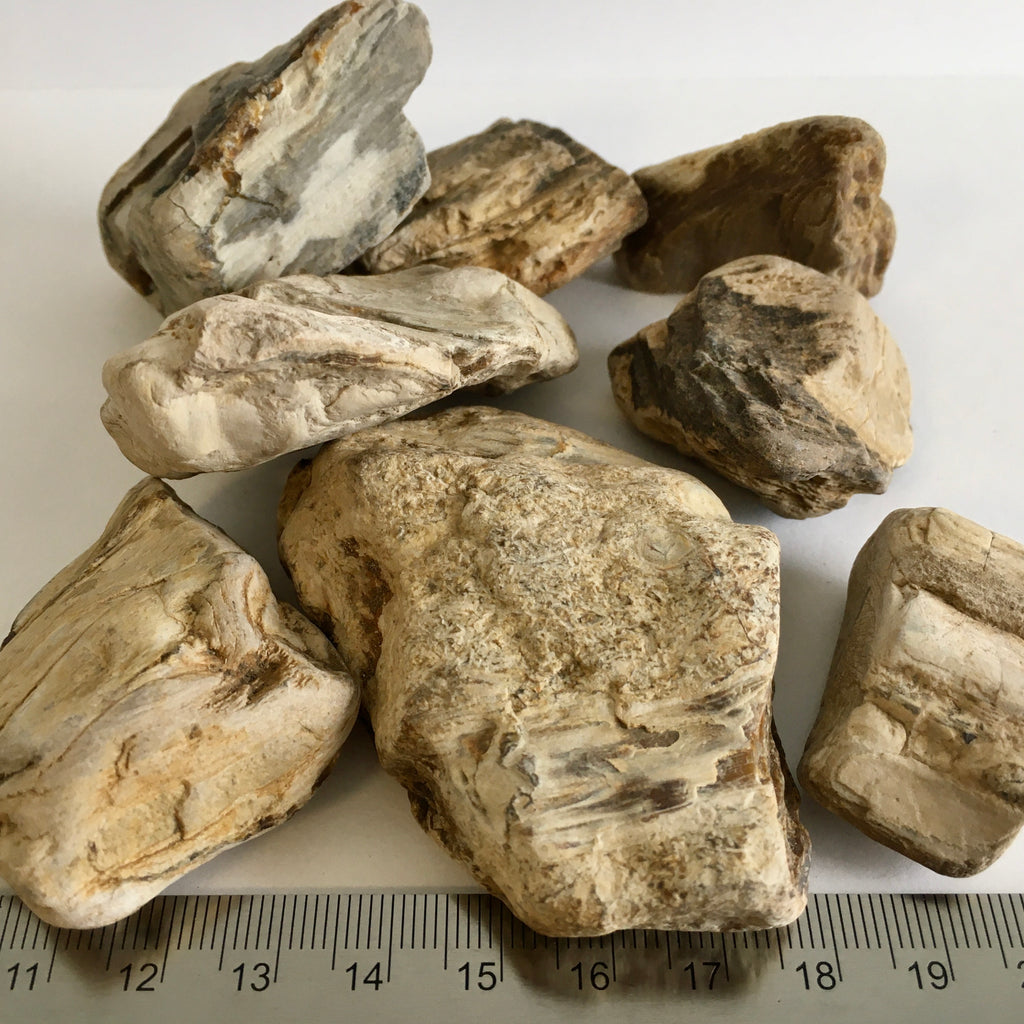 Crystal Medicine
Petrified Wood Tumbled - 3.49
Petrified Wood from New Brunswick, Canada naturally smoothed by water
Average Weight: 1.0 oz 
Average Size: 4.5 x 3 x 2.5 cm
Origin: New Brunswick
Petrified Wood: (Naisha Ahsian and Robert Simmons) Conifers are one of the oldest seed trees consisting of pines, spruce and redwoods.  The wood was buried deeply in porous sand or ash where oxygen and organisms could not reach it, but ground water could.  The ground water replaced the cells with minerals.
Steady Growth; A Strong Body; Past-Life Recall; Patience; Inner Peace
Petrified wood is a stone of new beginnings and ancient knowledge.  It's about honoring your roots and where you have been.  It embodies the knowledge of the "Old Ones" of the Earth.  It reminds us of the knowledge we carry deep within ourselves and that by accessing this knowledge we can gain a deeper understanding of our self and our path.  It can herald a time when you will be taking steps upon a new path.  It reminds us that the new path is a new beginning in our lives.  It asks us to release the old and allow this new direction to establish itself firmly in your life.  A new direction is being indicated to you now.  Petrified wood is a stone of transformation, great strength and ancient wisdom.  It is a tree that decided to become a rock.  It demonstrates that all things are possible ~ that is our right to change and to heal.  Petrified Wood allows us to access the genetic records contained within the vast library of our cells.   It can help overcome limiting emotional patterns handed down through ones ancestors so that one can be freed of the destructive energies of the past while still keeping the ancient wisdom.  It is wonderful support for all kinds of physical healing.  It is particularly good for balancing the liver and gallbladder.  It can assist cleaning the liver and the blood and in facilitating proper blood-cell manufacture in bone marrow.  Affirmation: "I grow and evolve slowly, steadily with grace and patience, drawing from the lessons of my soul's history"
---
More from this collection