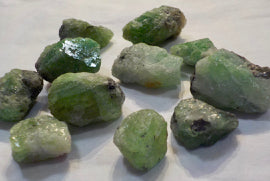 Crystal Medicine
Tsavorite Green Amethyst Natural - 24.99
Tsavorite is also known as Green Amethyst and as the ultimate abundance stone.
These natural green beauties come from Merelani, Tanzania.
Size: 1.0 x 1.5 cm
Average Weight: 0.23 oz
Green Garnet or Tsavorite: (Robert Simmons) African Green Garnets from Mali are excellent grounders of abundant manifestation. If one can conceive of something clearly, they are ready tools for bringing one's visions to reality.  They bring eager confidence and a motivation to get down to business and make things happen.  Paired with Moldavite, they are unbeatable for bringing into reality one's rightful abundance and highest path of achievement in this world.  The other green garnet is Tsavorite, a gem grade garnet that is the most energetically focused and refined manifestor of the grossular garnet group.  They are stones of wealth in all of its positive aspects – financial, creative, emotional, artistic and even physical health, the foundation of true wealth.  They are attuned to the pure Green Ray, and they rival emerald in their power and beauty.  Tsavorites can open and cleanse the heart chakra, enhance vitality, increase zest for living, induce feelings of charity and benevolence to help one to align with and bring about the heart's desires.  Their Green Ray energies plant seeds of prosperity and well-being in the energy fields of all those who come into contact with the wearer.  This can create interesting synergies which uplift all concerned.  In work situations, wearing Tsavorite can infect one's coworkers, or one's entire company, with optimistic, prosperous vibrations that can be helpful for everyone's abundance.  All types of Grossular Garnets harmonize well with Aventurine, Green Jade, Emerald, and Malachite.
(Naisha Ahsian) Grossular Garnet is healing of all limitations on the physical level – whether they affect health or wealth.  Green Garnet carries an especially regenerative energy.  It helps to perceive true abundance in one's life and to celebrate it with joy.  It helps recovery from illness or trauma.  It assists the body in regeneration and so is an excellent stone for use during and after surgery.  This loving stone helps overcome scarcity programming and lack of self-worth by reinforcing loving emanations of the Earth.  Aiding in healing the root of scarcity-mindedness, African Green Garnet lovingly reveals the true abundance Mother Earth and the Universe provide.  They are powerful allies in healing base chakra blockages and traumas, helping to open, clear and activate the first chakra with a healing, loving energy.  This stone can aid in recovering vital information about oneself and one's purpose on Earth.  Grossular Garnet helps balance cell growth and speed physical healing after physical trauma.  It helps one take responsibility for one's healing process, finding and utilizing one's inherent healing power.  Affirmation: "I call forth abundance, prosperity, health and wellbeing as my natural birthright, and I manifest them abundantly."
---
More from this collection